The endometriosis documentary Below The Belt premiered nationally on June 21, 2023, on PBS. If you watched it or plan to, be sure to watch expert reactions to the film on this Women's Health panel discussion video. The panel of expert clinicians, scientists, and patients from the MIT community discussed the film after watching an advance screening in Fall 2022.
The panel discussion was part of a series of gatherings on the MIT campus that included a Stand Up and Be Counted (for Women's Health) rally and the Below the Belt film screening. Nearly 300 attendees heard panelists discuss women's reproductive health and share their first-person stories about the challenges of integrating basic and clinical research to improve patient care. They emphasized the need for a multi-faceted approach in meeting the needs of endometriosis patients and why excision surgery "is not the answer."
The events were accompanied by an awareness-raising letter, authored by two event participants, CGR Director Linda Griffith and MIT Sloan School Professor Tavneet Suri. The letter appeared in the MIT student newspaper, The Tech.
Panelist Keith Isaacson, medical director of the Newton Wellesley Hospital Center for Minimally Invasive Gynecology Surgery, performs excision surgery. Isaacson explained that for endometriosis patients seeking treatment, "I take what I call the Neanderthal approach, which is to either remove or destroy the tissue. However, this is a temporary benefit, not a cure. The answer is trying to understand how the endometriosis got there, why it got there, how it behaves, and what we can do to not only prevent it but treat it better." In addition to his surgical practice, he is associate professor of obstetrics, gynecology, and reproductive biology at Harvard Medical School and clinical director for CGR.
"Critical discoveries for patients with endometriosis require embracing the huge differences in disease appearance and symptoms," explained panelist Stacey Missmer, professor of obstetrics, gynecology, and reproductive biology at Michigan State University, adjunct professor of epidemiology at the Harvard T.H. Chan School of Public Health, lecturer in pediatrics at Harvard Medical School, and president of the World Endometriosis Society. "What we know for sure is that no treatment has worked for all patients… this presents a huge opportunity for clinically translational science and targeted patient care," Missmer continued.
Panelist Chris Bobel, professor of women's, gender, and sexuality studies at the University of Massachusetts at Boston and an expert in the field of critical menstruation studies, said, "I've found that menstrual stigma [in patients] can be a foil to curiosity. This forecloses conversation, information seeking, and support around our periods and an entire menstrual cycle, which affects multiple body systems."
"Curiosity about menstruation and the function of the uterus can lead us to amazing places," added Griffith. "Through the immunology of the uterus, we can learn so much about immunology in general. There are many lessons we could learn — scientifically — that would benefit other disease research areas — if we were more focused on unraveling the mysteries of the uterus," Griffith said.
Panelists in addition to Bobel, Griffith, Isaacson, and Missmer, included Aleshia Carlsen-Bryan, associate director of MIT Career Advising and Professional Development; Shannon Cohn, film director/producer, lawyer, and activist; Peter Movilla, associate medical director of the Newton Wellesley Hospital Center for Minimally Invasive Gynecology Surgery; Nyia Noel, medical director of minimally invasive gynecologic surgery at Boston Medical Center (BMC), assistant professor of OB-GYN at the Boston University School of Medicine, and founder of the BMC Fibroid Center; and Tavneet Suri, professor of applied economics at MIT's Sloan School of Management.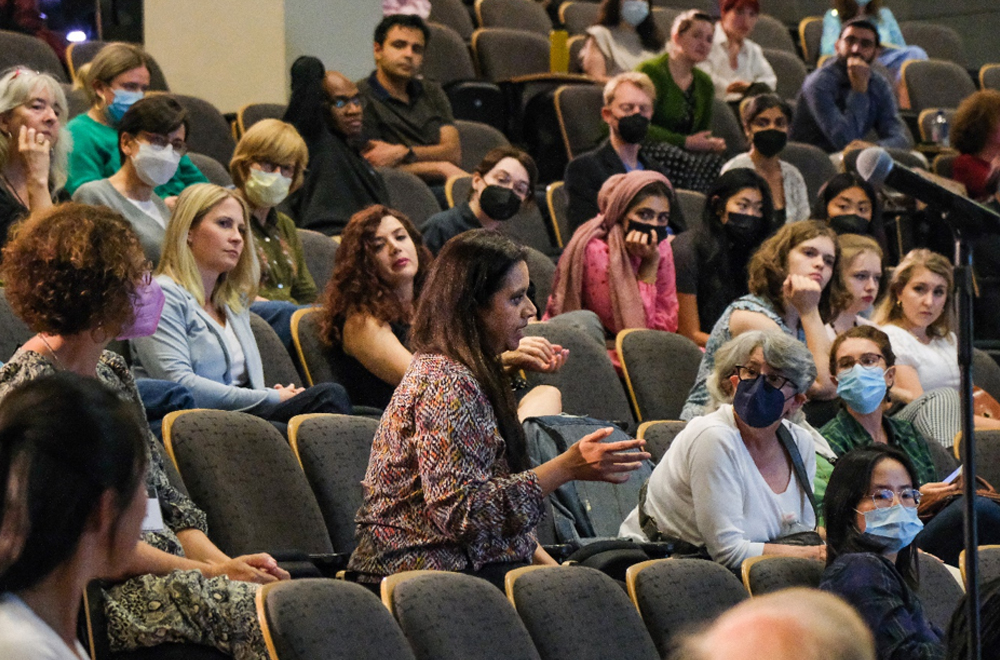 Women's Health Discussion Panelists
Chris Bobel
Professor of Women's, Gender & Sexuality Studies at the University of Massachusetts Boston
Aleshia Carlsen-Bryan
Associate Director, Career Advising & Professional Development, MIT
Keith Isaacson
Medical Director, Newton Wellesley Hospital Center for Minimally Invasive Gynecology Surgery, and Associate Professor of Obstetrics, Gynecology and Reproductive Medicine, Harvard Medical School
Stacey Missmer
Professor of Obstetrics, Gynecology and Reproductive Biology, Michigan State University; Adjunct Professor of Epidemiology, Harvard T.H. Chan School of Public Health; and Lecturer in Pediatrics, Harvard Medical School; President-Elect, World Endometriosis Society
Peter Movilla
Associate Medical Director, Newton Wellesley Hospital Center for Minimally Invasive Gynecology Surgery
Nyia Noel
Medical Director, Minimally Invasive Gynecologic Surgery, Boston Medical Center; Assistant Professor of OBGYN at BU Chobanian & Avedisian School of Medicine; founder, BMC Fibroid Center
Tavneet Suri
Professor of Applied Economics at MIT's Sloan School
Event Co-Host: Shannon Cohn
Film director/producer, lawyer, and activist
Event Co-host and Panel Moderator: Linda Griffith
Professor of Biological and Mechanical Engineering; Director, Center for Gynepathology Research, MIT